Onboard Activities
Dining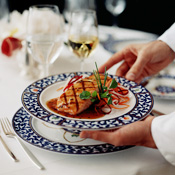 Dining has become an event not to be missed on board cruise ships. Each ship and line has its own approach to serving food and cruise cuisine. The more traditional approach to dining has one main dining room with two different seating times (6:00pm and 8:30pm) and tables of six, eight, or ten. This provides a great way for guests to meet and get to know one-another.
Many cruise lines have changed the way they do dining. They make it your choice where to dine, when to dine, and with whom.
Lines such as Norwegian Cruise Line, Princess Cruises, and Carnival Cruise Line have various dining options and times to accommodate their passengers. Royal Caribbean, Celebrity Cruises and Holland America Line offer the more traditional dining schedule, but also offer alternative restaurants with more flexible times.
Many of the luxury lines, such as Seabourn Cruise Line, Silversea Cruises, and Crystal Cruises, provide guests with a traditional dining experience, again with dining alternatives such as specialty restaurants or in-room dining.
Reservations
When booking your cruise, you will be asked whether you prefer first or second seating. This selection is honored based on availability. When you receive your cruise tickets, you see your dining time. This applies to the main dining room only.
If you choose to dine in an alternative restaurant, it is imperative that you make reservations as soon as you board the ship (or in some cases, before you depart home). These can be made with the maitre d' at the restaurant of your choice. Alternative restaurants are in very high demand and, if you don't make reservations when boarding, you may not be able to dine where you like.
Your cruise consultant can suggest a dining time which will fit your needs.
Spa & Salons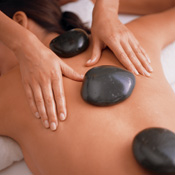 One of the major attractions on any cruise is the cruise spa and beauty salon. So much so, that cruise ships go out of their way to make their spa the most luxurious, relaxing, and inspiring place on the ship.
Spas offer everything from facials, scrubs, massage therapy, body therapy, body wraps and general salon services. World famous spas are now available aboard ships, including Canyon Ranch.
This means you can spend an afternoon relaxing with a therapeutic mud wrap while listening to calming music and looking out into a wide expanse of ocean. Or you can book a hair appointment, manicure and pedicure, or massage to prepare for a formal dinner on board. Whatever your desire, the cruise spas and beauty salons are there for the sole reason of pampering you.
As a word of advice, spa services tend to book up very early in the cruise and it is suggested that guests should make their way to the spa immediately upon boarding to plan spa services.
Pools, Sports & Recreation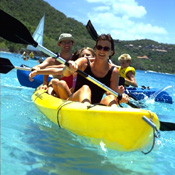 Are you looking to spend your days at sea in a deck chair watching the kids splash in the pool? Or would you rather try your hand at a rock-climbing wall on the ship's smoke stack. Or perhaps taking ice skating lessons. Whatever your desire, you'll find most everything you need on today's cruise ships.
Of course, the larger, newer ships offer the latest and best facilities. Every ship provides passengers with at least one swimming pool and various, outdoor activities. Royal Caribbean has an ice-skating rink on the Voyager-class vessels. Princess and Royal Caribbean offer a mini-golf course on the top deck. Holland America has paddle tennis courts.
Many lines offer basketball courts, running tracks, volleyball nets, and driving ranges. Nowadays, there are even golf simulators on board that help you to brush up on your swing or play a round at the course you're cruising to.
Night Clubs & Lounges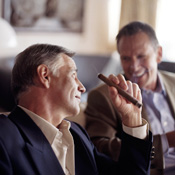 As the sun goes down at sea, the lights turn up on board as passengers are treated to a host of after-dinner entertainment. With Broadway-style reviews, comedians, pianists, dance clubs, and karaoke, rest assured that you will not be bored during the evening!
Take an hour to sip cocktails in the ship's lounge prior to dinner. Enjoy a nightcap and cigar in the cigar lounge before bed. There are lounges, bars, and clubs to suit every taste. If the theatre isn't your style, stop by a dance bar or sing songs at a sing-along piano bar.
Other options in entertainment include a wide variety of singers, comedians, bands, and musicians performing out on deck or in one of the many clubs. You may also be happy to know that, during your cruise, no two shows are the same. So when the curtain goes up, you are assured a new and amazing experience night after night.
Casino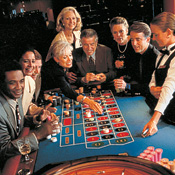 Almost every cruise ship, no matter the size, has a casino. The most notable exception to this is Disney Cruise Lines, which does not offer casinos aboard their ships. Many are elaborate rooms with every game under the sun. Try your hand at craps, roulette, blackjack, Caribbean stud, let it ride, and three card poker. Drop your change into video poker, slots, and various novelty machines.
Cruise ships provide passengers with a world-class casino experience without ever visiting Las Vegas! If you want to brush up on your game, ships offer classes in gambling to teach novices and pros alike.
Typically during the week their will be a blackjack tournament, as well as slots tournament.
Movies, Libraries & Card Room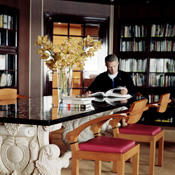 If you are looking to relax by the pool on your cruise, but forgot your favorite book at home - don't fret! Cruise lines boast well-stocked libraries with books appealing to every taste. Sit and relax quietly in a leather chair surrounded by countless books. Or take your book back to your stateroom or to the pool-side to enjoy it throughout the voyage.
If you opt for a game of chess, crib, bridge, or checkers, ships have game rooms complete with all of the amenities for the world's most popular card and board games. If you would rather take the kids out to a first-run movie, you can do that, too. Many lines offer cinemas with surround-sound, large screens, and comfy, velvet seats. Holland America Line even provides the popcorn!
Princess Cruises now offers a jumbo movie screen outside near the pool for watching movies outdoors, even while dining! Be sure to get there early to grab one of the floating seats in the pool.
Fitness Facilities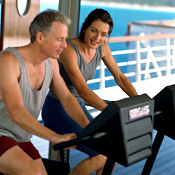 Whatever your workout regimen, from power-walking to body-building, aerobics to yoga, the fitness center on your cruise ship offers a full-range of options to keep you ship shape.
All cruise ships have a workout area with the applicable equipment, personal trainers, and various classes. Newer ships have, however, cruise fitness facilities that take up half a deck and provide passengers with the latest fitness equipment, aerobic programs, and expansive ocean views. Enjoy an early morning Pilates class. Take time out of your afternoon for a Spinning class. Finish up with a bit of heart-pumping kickboxing. Royal Caribbean International even provides passengers with an inline skating track that spans the top deck of their Voyager-class vessels!
Whether your idea of fitness is jogging, swimming, weight-lifting, kickboxing, Pilates, or yoga, the fitness center on your floating resort can accommodate your needs. You can always end your workout with a relaxing sauna, steam, aromatherapy treatment, or massage. After all, you are on vacation!
Entertainment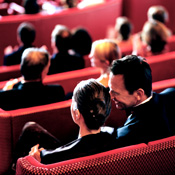 Following dinner, passengers are entertained by a host of activities on their ship ranging from a Broadway-style review that rivals Las Vegas to piano/vocal duets. With fly-away sets, the latest in audio and lighting equipment, realistic special effects, flashing fireworks, and an unbelievably talented cast, these shows will have you coming back night-after-night for more!
The major lines create their own productions from beginning-to-end to ensure that your experience is new and exciting. They have elaborate costumes, well-choreographed dance moves, strong voices, and life-like sets. Some of the largest stages at sea belong to Princess Cruises with a 36-foot wide stage, 1,500 costumes, and a five-deck-high backstage area that spans nearly the full width of the ship.
On smaller vessels, entertainment will typically be limited to local entertainers from the locale your are cruising, or comedians, musicians or a speakers series.
Duty-free Shopping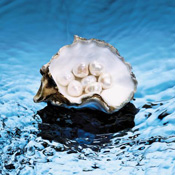 Nothing stirs the desire for a little shopping more than the words duty-free. The Caribbean islands offer an abundance of opportunities to shop until you drop! In fact, duty-free shopping on the island of St. Thomas dates back 300 years. Whether it's a brand-name camera, emerald earrings, designer perfumes, watches, or a bottle of rum from one of the many, fine distilleries, you'll find no shortage of ideas. Your only job is to shop 'til you drop, then return to the ship for a little rest before you arrive at the next island!